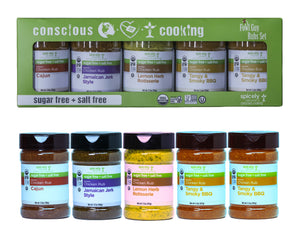 Fowl Guy 5PK Rubs Gift Set - Conscious Cooking™ Sugar Free + Salt Free
---
Spicely's Conscious Cooking™ Rubs are made with a rich blend of organic herbs and spices, so any cook, grillmaster or pitmaster can create healthy and great tasting meals everyone will love. As part of Spicely's commitment to the health of its consumers, each Rub is certified organic, certified gluten free, non-GMO project verified, certified OU kosher, sugar free, and salt free.
Buy 4 Of Any 5-Pack Rubs Gift Set (Grillmaster, Steak 'Em Up, or Fowl Guy), Get A 5-Pack Gift Set of Your Choice Free (Save 25%). Use code: BUY4RUBS49 at checkout.

Promotional discount applies only to Rub Gift Sets. Discount is not to be combined with any other offer, discount, or coupon.
 (Pack of 5)
Organic Cajun Chicken Rub - (3.9 OZ) - 1 Unit

Ingredients: *Paprika, *Pepper, *Garlic, *Cumin, *Onion, *Oregano, *Cayenne
*Organic
Organic Jamaican Jerk Style Chicken Rub - (3.7 OZ) - 1 Unit

Ingredients: *Paprika, *Thyme, *Onion, *Garlic, *Cinnamon, *Allspice, *Pepper, *Cayenne, *Nutmeg, *Cloves
*Organic
Organic Lemon Herb Rotisserie Chicken Rub - (5.5 OZ) - 1 Unit

Ingredients: *Onion, *Garlic, *Turmeric, *Lemon, *Rosemary, *Chili, *Dill Seeds, *Oregano
*Organic
Organic Tangy & Smoky BBQ Chicken  Rub - (5.2 OZ) - 2 Units

Ingredients: *Paprika, *Garlic, *Lemon, *Cumin, *Dill Seeds, Citric Acid, *Cayenne  *Organic
*Images are representations only, and may not be a direct reflection of the shipped product

Unless otherwise indicated, products are sold by weight and not by volume. Some products may appear "less full" due to a variety of factors such as the density of the spice, contents settling during shipment, etc.

Our inner safety seals are pressure sealed and it is normal when twisting off the cap that the seal may come off, come loose, and/or tear - so long as none of the contents spill out, the product is safe to consume.
For more information on our products and processes, please visit our about us page.
Need help? To better meet your needs 24/7 we recently launched the Spicely Organics Chat Bot. Just click on the chat bubble on the bottom right of the screen to find answers to your questions or to contact the Spicely Organics Support Team.
---
Share this Product
---
More from this collection
---