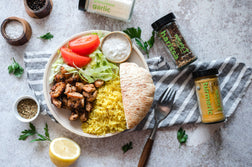 Prep Time: 10 minutes Total Cook Time: 15 minutes Servings: 1 serving INGREDIENTS 8 oz chicken thighs, chopped 1 tbsp of  extra virgin olive oil 1 tbsp of fresh lemon juice Salt and black pepper to taste 1 tsp of garlic granulates  ½ tbsp of oregano  1 oz butter Salt and black pepper to...
---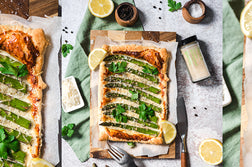 Prep Time: 10 minutes Total Cook Time: 25 minutes Servings: 3 - 4 servings   Ingredients 1 oz of goat cheese 1 egg 1 cup of Crème Fraîche 1 tsp of sea salt ½ tsp of nutmeg ground 1 tsp of black pepper ground 1 tsp of garlic granulates 1 tsp of lemon zest 1 puff...
---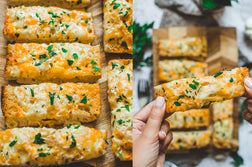 Easy Cheesy Garlic Bread, it doesn't get much better than a warm slice of cheesy garlic bread straight from the oven. Can be served as an accompaniment to all your favorite pastas and soups or as a dish all on its own: perfect for dipping in marinara sauce.  Prep Time: 5 minutes Total Cook Time: 15...
---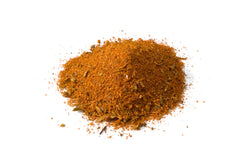 Cajun seasoning is essentially a mixture of all the spices that make up the robust flavor that have come to be associated with the Cajun cuisine. This Southern Louisiana culinary style and dish preparation is often times confused with Creole, and more recently just all clumped into one big category of "Louisiana cooking". The...
---
  This month's MADE WITH SPICELY feature is Kickin' Pickles. Kickin' Pickles is a family owned pickle company; family matriach Grandma Jean had an amazing German pickle recipe that everybody wanted! The company grows their own cucumbers and jalapenos and try to use organic ingredients (if available) for their products. The result is a...
---
It's National Popcorn Month! Americans eat about 16 million quarts a year of this delicious snack - that's about 51 quarts per person! Here's some popcorn trivia for you to get your celebration on: The earliest recorded use of corn is for popping! Historical Spaniard accounts state that popcorn was often used as garlands...
---
asdf
---
Ants on a log! Takes you back to kindergarten, doesn't it? While the classic peanut butter and raisin is always good, we think that this spicy grown-up version is a great way to celebrate National Ants On A Log Day. To assemble, spread hummus over the celery stalks and top with diced red bell...
---
---
Happy National Watermelon Day! Did you know that this fruit originated in South Africa? Egyptian pharaohs loved this treat, and by the 10th century it had traveled all the way to China! You've probably seen pictures of watermelon mojitos and Greek salads on your social media feed by now. But let's face it, why...
---
This week on Made With Spicely, we would like to introduce you to Saffron + Kumquats, a recipe subscription service! Saffron + Kumquats makes it fun and easy to cook around the world in the comfort of your own kitchen with a monthly subscription box!.  Each month features a different cuisine from around the...
---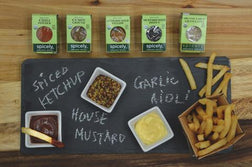 Oh, the amazing potato in its most glorious form: the French Fry. But did you know that there are records of fries as early as the late 17th century? In a region in Belgium called Meuse Valley, it was very common for the people to fry up small fish as a staple. But in...
---
Organic sumac is a dark red, almost purplish, culinary spice that originates from the sumac shrub. This plant grows wild in many Mediterranean areas, most notably in Southern Italy. The shrub forms its fruit in dense reddish clusters, which are harvested, dried, and ground coarsely to produce sumac spice. The shrub's widespread growth, along...
---
  Welcome to MADE WITH SPICELY, where we feature the makers and artisans who use Spicely Organics ingredients! Today we want to introduce you to The Springs in sunny Los Angeles!Located in the Arts District of downtown Los Angeles, The Springs includes an organic juice bar, yoga studio, wellness center, and a 100% organic...
---
  Curry refers to a wide range of dishes, most popular in south Asian cuisines. Today the dish represents a true global fusion food with hundreds of variations, in fact this dish is so well traveled that there has always been a debate regarding its true origin. However, this all changed thanks to findings...
---
Why not say thanks by cooking Dad up something delicious! Whether it's breakfast in bed or a hearty family meal, you make it - he'll love it.      
---
  June 3rd is National Egg Day! In celebration of this wonderful protein, we thought that we should share some trivia with you. 1 Large-sized egg supplies 12.6% of the Daily Reference Value (DRV) for protein. To tell if an egg is raw or hard-boiled, spin it. A raw egg will wobble while a hard...
---
  The mint julep is a traditional American cocktail and is said to have been invented around the 18th century in the Southern states. There are records from as early as 1784 where mint julep was prescribed for stomach ailments.Traditionally, mint julep is made with bourbon, but we have an equally fun virgin mint...
---
The word Chai is derived from the Persian word for tea, Chay, which itself is derived from Chinese Chao (Cantonese to be exact - the English word Tea originates from a different Chinese dialect Tee!). The British started large scale tea cultivation in India in the 17th century to bypass the Chinese monopoly. Even...
---
April 19th is National Organic Garlic Day! To celebrate, here's some fun facts about organic garlic: Organic Garlic has been used for a very long time - there are even records of it from when Giza pyramids were built! (around 2500 BC) Organic Garlic is famous for its culinary and medicinal uses, but many...
---
Featured in our blog today is Simply Chopped! They use locally-sourced ingredients when possible and not only focus on providing the body a source of sustained energy, but also give back to the community and environment. Read what Angela, the founder and owner of Simply Chopped has to say!   "Simply Chopped® is not a...
---
  March 10th is National Ranch Dressing Day!  Did you know that ranch dressing was invented in the 1950s at a dude ranch in Santa Barbara? Historically it is a buttermilk dressing seasoned with a long list of herbs and spices such as: onions garlic dill parsley chives paprika black pepper Modern recipes use...
---
  Chervil, or French Parsley, is what makes restaurant food so snazzy - this fine little leaf adds just enough herbaceousness to mild dishes like poultry, fish, and soups. Chervil has a very delicate flavor profile, and should only be added right before the finish. And how does it taste? It tastes like a...
---
Anyone can make luxurious hot chocolate within the comfort of their homes - even if you're vegan! No matter what type of milk you use, the key is to use dark chocolate that's at least 60-70% cocoa content, and in disk (feve) or chip form. Most of our dark chocolate flavors work well, but...
---
Turmeric, or Curcuma long, is a spice that spans over many cultures - Indian, Chinese, even American (hint: mustard is not bright yellow). While most people recognize it as a key ingredient in curry powder, turmeric is a standard medicine in East and Southeast Asia (mainly for detox purposes, such as allergies and hangovers)....
---
Spices and herbs have always been use as medicine; to this day Ayurvedic and Chinese apothecaries prescribe them to cure ailments and detoxify the body. Here's what some spices are purpotrated to do. Before you include them in your diet, make sure to consult your physician to confirm that they won't interfere with your current...
---
Quatre épices, or French Four Spice, is one of traditional seasoning blends that France has to offer. However, unlike herbes de Provence or fines herbes quatre épices is made of spices and is a headier blend.   Because it is comprised of fall spices like ginger and cloves, recipes using quatre épices tend to be...
---
  Herb and spice infused vinegar is easy to make at home, and adds a refreshing spark to salad dressings and dips. It looks great, and unlike infused oil, it doesn't spoil easily, so it's perfect for gifting! While white distilled vinegar is readily available and economical, try experimenting with other vinegars too! For instance, sherry vinegar...
---
The next DIY food gift idea is super easy and customizable: flavored salts! Flavored salts are popular gifts because they feel fancy but are very versatile to use - it can be used as a garnish for a homemade snack, mixed in to a dry rub, or as rimming salt for fancy cocktails (cricket-salt-rimmed...
---
Brining is an old technique that is used for preservation, tenderizing and flavoring. Essentially, the process of osmosis helps proteins retain its moisture during the roasting process. This is especially helpful when you're doing a large roast like pork loin or turkey. You can either do wet or dry brines - but a wet...
---
  Poultry seasoning is a traditional American spice blend that is used for poultry meats like chicken, turkey, Cornish hens, squab, duck, and quails. It's mostly a mixture of strong field herbs like sage and thyme. Other common includes may include marjorm, rosemary black pepper, savory , and or oregano. Most of these ingredients are...
---
  Today we feature Raaka Chocolate! They use some of our products in their chocolate, including their Lapsang Chai Chocolate bar! Here is more information about Raaka Chocolate:   "Raaka Chocolate is a small batch, bean-to-bar chocolate maker working out of Red Hook, Brooklyn. Raaka makes chocolate using unroasted beans to deliver flavors which are...
---
Happy National Vegan Day! Here at Spicely, we have a mottled combination of team members, whom all practice different life styles. That said, everyone's got a recipe to share - vegetarian, gluten-free, paleo,  omnivore - but today, we want to celebrate our vegan recipes! We have a plethora of recipes that will fit your...
---
  Spicely is proud to support the Multinational Exchange for Sustainable Agriculture! MESA is holding their Annual Cultural Cuisine and Forging Farmers Event today at 7pm in El Cerrito, CA! http://bit.ly/1wtJ5GD   "Multinational Exchange for Sustainable Agriculture (MESA) connects sustainable farming leaders around the world for participatory training and cross-cultural exchange to strengthen local, resilient...
---
Whether it's for the holidays, special occasions, or just wanting something to cool down with, ice cream can be used everywhere! Today we feature McConnell's Fine Ice Cream located in Santa Barbara, California.    "McConnell's Fine Ice Creams has been churning out its authentic, truly handcrafted ice creams from Santa Barbara, California since 1949. ...
---
Have you ever tried making your own spice syrup? It's very easy to make and versatile to use - squirt some in soda water to make Italian soda, add it to your coffee for a holiday treat, or drizzle some on vanilla ice cream for a sultry touch! You can use any spice, but...
---
Jams and jellies are ancient preservation methods that are still appreciated today, and with good reason – it's easy to make and stores so well! But the simplicity can get boring at times, and younger generations of producers are creating exotic and delicious combinations to mix things up (Grapefruit and smoked Salt) Limetta Marmalade Blueberry Bourbon...
---
  We're happy to introduce KOVAL Distillary, located in Chicago! Here is what they have to say about choosing organic ingredients...   "KOVAL uses organic ingredients for many reasons.  KOVAL believes that the best spirits must come from the best ingredients.  We want only the highest quality ingredients to be used in our grain-to-bottle...
---
Dukkah (pronounced DOO-kah): it originated in Egypt, is wildly popular in Australia and is sure to make a splash at your next dinner party. Most commonly served with olive oil, dukkah is special enough to serve as an appetizer alongside a glass of wine, but it's also humble enough to be enjoyed with a...
---
  Today we feature "The Original San Francisco-Style Barbecue Sauce," SFQ!   Here is what Michele of SFQ has to say about this delicious barbecue sauce: "SFQ, "The Original San Francisco-Style Barbecue Sauce," is a classic American barbecue sauce, lustily elevated with hints of chocolate, coffee, and oak-aged red wine vinegar. This unique, all-purpose...
---
  You might be surprised to know that spices were once as important as currencies. Nowadays they are not as scarce as they were in those days, it is possible to consume and still have some to spare for another day. This means that we should have proper storage skills or else they will...
---
Our CEO, John Chansari, was interviewed by An Organic Conversation, and the podcast will go live tomorrow!
OAC is a Norcal based radio show, hosted by Helge Hellberg, Sitarani Palomar, and Mark Mulcahy. The show discusses "innovative solutions to today's environmental and social challenges, healthy living, and sustainable choices". It's a great podcast if you're following the movement; and the website also as videos!
Come check it out and explore the health benefits and culinary uses of spices with the AOC team and John.
The World of Spices: History, Culture, Uses & Benefits
with guest John Chansari of Spicely Organics 
airing: beginning Saturday, August 9th


Listen Here: anorganicconversation.com
Follow them on twitter! @talkorganic
---
    We're happy to announce the opening of MISSION: HEIRLOOM, a grain-free restaurant in Berkeley, CA.    Here's what Kate from MISSION: HEIRLOOM has got to say: "Mission: Heirloom is a multi-platform food company that provides inspired, nutrient-dense meals for delivery and at our soon-to-open cafe in Berkeley. We are above and beyond...
---
Fenugreek is a plant with yellow and white flowers that somewhat resembles alfalfa. Both its leaves and seeds are edible, and the latter, which are small, yellow and cuboid-shaped, can be used either whole or ground. Fenugreek adds a nutty, caramel-like taste to food. Most often used in Indian cuisine, it is a common...
---
  We're very excited to introduce JUICE RANCH, an organic juicery in Santa Barbara, California. Juice Ranch's philosophy is that juice is medicine. Each 17 oz. glass bottle has up to 4 pounds of raw 100% organic produce. They use a hydraulic press which applies 16 tons of pressure to gently extract the juice...
---
Not all thickening agents are created equal. Obviously flour is a no-no for anyone on a gluten-free diet, and most of the corn grown in the United States is genetically modified, making the use of cornstarch a murky landscape. When prioritizing healthy, mindful cooking, we recommend turning to arrowroot powder as your go-to thickening...
---
Call us old-fashioned, but when we see an undressed salad, we can't help but blush a little and avert our eyes. Don't get us wrong - crisp leafy greens topped with fresh fruit and veggies make our hearts swoon, but what really gives a salad that special oomph that keeps us stabbing at our...
---
There's no denying that a fruit and veggie-loaded smoothie is an excellent way to start your day. But did you know that adding just a pinch of spice to your daily smoothie routine can offer even more health benefits, all while adding a whole new level of delicious flavor? Especially great for when your...
---
Marinades and rubs are an excellent way to enhance your protein and veggies, making them juicy and flavorful additions to your backyard barbecue or everyday alfresco dining. Unfortunately, many pre-made marinades and rubs that line the shelves of conventional grocery stores contain gluten and are high in sodium and sugar. Familiarize yourself with both...
---
Thyme plays a vibrant role in the Mediterranean Diet, is a primary ingredient in the Middle Eastern spice blend za'atar and was one of the most widely used spices by Julia Childs in Mastering the Art of French Cooking, including her famous boeuf bourguignon. With a slightly lemony aroma and a mildly pungent flavor,...
---
  Reducing your sodium intake doesn't mean you have to give up flavor. Replacing salt with spices and herbs is an excellent and healthful way to enhance every meal. In fact, most people who make the switch find that they get way more satisfaction from food once they divorce themselves from the salt shaker...
---
Panch phoron is a colorful mixture of five whole spices used in Bengali (East Indian) cuisine. It has a bittersweet flavor and traditionally includes the following five seeds: cumin, black mustard seed, fenugreek, fennel and nigella in relatively equal proportions. Alternatively, you'll find that sometimes black sesame seed replaces the hard-to-find nigella seed. Unlike...
---
Watch out, sriracha - you might be everyone's favorite spicy red condiment today, but just wait until more people get a taste of the spicy deliciousness that is harissa. This hot chili paste popular in North Africa is poised to heat up the food world with its fiery, yet adaptable, flavor. Harissa, a paste...
---
Real Food Daily is Southern California's premiere organic plant-based restaurant serving a quality, authentic, creative and nutritionally balanced menu, with locations in Santa Monica, West Hollywood, Pasadena and LAX (the first ever plant-based eatery in an airport in 2013!). RFD's food is made from certified organic vegetables, fruits, whole grains and high quality natural...
---
From the slightly bitter, yet sweet taste of cinnamon, to the peppery, woodsy flavor of rosemary, spices add complexity to your cooking and enhance the natural flavors of whatever they mingle with. They have the power to elevate even the simplest of dishes and transform them into something memorable. Accordingly, methods of buying, storing...
---
Beautiful, romantic lavender immediately evokes images of feathery purple flowers swaying in the wind in the European countryside. With a whimsical air and a multitude of applications, including aromatherapy, our favorite way to use this perennial herb is in our cooking. Lavender is a member of the mint family and is related to rosemary,...
---
How to Build an Indian Pantry: 10 Essential Spices Love Indian cooking but fearful of the long and intimidating list of spices needed to re-create all of your favorite dishes? We've compiled and introduced the 10 most widely used Indian spices to help familiarize you with common flavors and applications and get you started...
---
Don't let this tiny seed's size mislead you. Derived from the flax plant, an annual herb believed to have originated in Egypt, flaxseed boasts countless potential health benefits and has been ingested and revered for its nutritional properties for centuries. Flaxseed boasts a whole list of purported health benefits, but three key properties, in...
---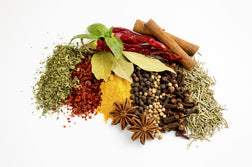 Variety is the spice of life, and spices are the life of food. They define each dish, adding flavor, texture, color, and aroma, and, without them, eating would be bland and joyless. Yet, in the organic conversation, they are often an afterthought. Sprinkling, rubbing, and marinating your wholesome, organic meat and produce with pesticide...
---
  Since we launched our wholesale page, artisanal businesses big and small have been partnering with us. One of these new partners is LITTLE BELGIANS, an artisanal cookie company founded in Berkeley, California in 2013 by Evy Ballegeer. They specialize in speculoos: arguably, the most popular cookie in her native Belgium. It's thin, crunchy,...
---
Rooibos tea, also known as red tea, African red tea or bush tea, has a distinctive red color and a naturally sweet, somewhat nutty flavor. It originates in the Western Cape province of South Africa, where the drink has been popular for generations. However, in recent years it has becoming increasingly in-demand across the...
---
    New to a gluten-free diet? Whether you have a wheat allergy, gluten intolerance or Celiac disease, we've compiled some of our best advice for happy, empowered eating.   1. Get a Grasp on Gluten Know exactly what's off limits and what you can still enjoy before embarking on a gluten-free diet. Not...
---
With its dark orange strands and honey-like, slightly bitter flavor, saffron has made a name for itself as a gorgeous, exotic and expensive spice that rivals the value of gold. Saffron is the dried stigma of the beautiful blue saffron crocus flower. Laborers must pluck the delicate stigmas of anywhere from 50,000 - 75,000...
---
We are excited to announce that one of our culinary customers, TROU NORMAND in San Francisco, is now open! TROU NORMAND is named after the Norman tradition of drinking Calvados (apple brandy) as a palate cleanser, and the restaurant itself is a celebration of great food and drink. Chef Salvatore Cracco transforms the venerable...
---
    Za'atar (also spelled zaatar) seasoning is a blend of dried herbs, sesame seeds, sumac and salt. It is a traditional, historic and cultural staple of cuisine in the Middle East. Far and away one of Spicely's biggest sellers, za'atar has deep roots in culinary history.   Dating back to the 13th century,...
---
 The Vanilla Orchid There are three species of vanilla, all of which grow from a perennial climbing orchid, vanilla planifolia, vanilla tahitensis, and vanilla pompona. All three species originate from the orchid v. planifolia, which is native to Mesoamerica and was used by the Aztecs.   In the 1520s Spanish conquistador Hernán Cortés attempted to bring vanilla back...
---
  Cinnamon is harvested from the bark of Asian evergreen trees that are 25 years or older. There are two types of tree bark that can be used, cinnamon (cinnamomum verum) and cassia (cinnamomum aromaticum). Both have similar flavors but can be distinguished when tasted in comparison.   Cassia is commonly referred to as cinnamon or Saigon...
---
  Sumac powder comes from sun-dried berries of a wild shrub that grows in subtropical and temperate climates like Southern Italy, North America and Africa. The clusters of small red berries (called drupes) that grow on the plant are sought after for their sour taste. After the berries are dried and ground, they become...
---
  No matter who wins or loses, the meal can be just as memorable as the game. Be prepared to tackle any backyard BBQ with our grill set. With no artificial anything added to our seasonings, you can keep your focus on the game and not on sneaky ingredients. Use any of these as...
---
  The Ancho chile is the dried version of the Poblano pepper. "Ancho" is Spanish for "wide," and these chiles are usually large, flat and triangular in shape, with a deep red color and wrinkled skin.   Ancho chiles are mild to medium in heat and have a sweet, smoky and somewhat raisin-like flavor,...
---
  Turmeric, part of the ginger family, is a self-propagating rhizome. Turmeric has origins in Indian culture where it was originally used as a dye and later embraced for its medicinal purposes. During medieval times in Europe it was often referred to as "Indian saffron" because it was commonly used to replace saffron, which...
---
---
  Juniper berries aren't actually berries at all, but rather the female seed cone of different types of junipers that has an appearance similar to a berry. You can use them both fresh and dried, but fresh berries have the most flavor and aroma. Juniper berries are used heavily in European cuisine and add...
---
  Since the discovery of spices long ago, wars have been fought for them, kings and queens have longed for them and food lovers have delighted in them. Spices have inspired brave adventurers and epic poems. Ancient healing systems from traditional Chinese medicine to Ayurveda have practiced specific spice combinations that shaped the very flavors...
---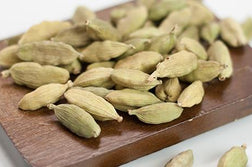 At Spicely, we choose only the best grade from the highest yielding sustainable varieties of green and black cardamom from certified organic farmers
---
  Gluten-Free Diets   It is well established in the medical world that what humans eat greatly affects how we feel in both the short and long term. Gluten has become a widespread topic of discussion as to how food products like pasta, bread and crackers may be harming us.   Gluten is a...
---
Organic foods are food products that are certified by the USDA to meet the regulations of the National Organic Program. The NOP logo assures consumers that the organic foods they purchase are consistent with federal standards. Farmers and food producers who don't meet the USDA's standards may not use the logo. Diet and Health Diet...
  This month's MADE WITH SPICELY feature is Kickin' Pickles. Kickin' Pickles is a family owned pickle company; family matriach Grandma Jean had an amazing German pickle recipe that everybody wanted! The company grows their own cucumbers and jalapenos and try to use organic ingredients (if available) for their products. The result is a...
---
It's National Popcorn Month! Americans eat about 16 million quarts a year of this delicious snack - that's about 51 quarts per person! Here's some popcorn trivia for you to get your celebration on: The earliest recorded use of corn is for popping! Historical Spaniard accounts state that popcorn was often used as garlands...
---